Clow Valve sponsors fire school for 72 firefighters
March 20, 2019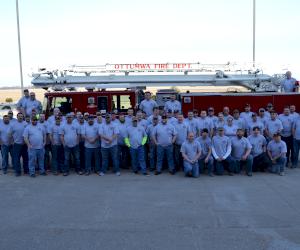 On March 14, Clow Valve sponsored a fire school in Indian Hills for 72 firefighters from 14 different fire departments. They kicked the event off with breakfast and a keynote from Keith "Doc" Patterson who is with the University of Illinois Fire Service Institute and is a well-known firefighting trainer.

Three different breakout sessions were offered to participants. Breakouts started late morning with a break for lunch and continued into the afternoon. The breakout choices were the 360-Degree Leadership Size-Up, Rural Pumper Ops or Aggressive Engine Company. Since the vast majority of fire departments in the region are strictly volunteer, this was a great opportunity for them to get high-quality training at a very low cost.

Clow provided t-shirts to participants which were a big hit.